What makes perfect weather all year round?  Maybe the fact that we can count with our fingers the number of days socks are really needed or an average yearly temperature of 19º will suffice.  Yes there is rain, every now and then, but so good we are able to come up with a great number of ideas to keep our trainees busy with sweat worth every set and game.
But there are so many other reasons why we chose this place to be Padel Trainer´s hub.  Marbella is gastro-town ladies and gentleman: With 6 Michelin star restaurants, over 600 eateries between smart dinners between the Golden Mile and Puerto Banús, trendy beach venues and down to earth tapas almost everywhere what to eat or where is an easy to answer question every day.
The cuddliest accommodation.  After a hard day of training proper rest is a must.  And to make sure our trainees do enjoy pampering comfort we design tailor-made padel weekend trips to make sure you receive all the nourishment required for and after a demanding training.
As padel professionals, we understand what training is and what it should achieve.  In professional sport we can´t afford to remain in our comfort zone.  And we take the same approach when designing clinics and trainings.  We have prepared for years to deliver hands-on knowledge, and planned for months our coaching to ensure everything trainees receive is perfect and on point.
We don´t just manage padel.  We drive it forward.  We go the extra mile for our trainees and we strive to set a personal best with every clinic and project we undertake.  We don´t ask for that which we don´t give: meticulous planning and flawless execution are essential on and off court.  Making sure our team members deliver on time and to a consistently high standard is a must for Padel Trainer.  The place where the best conditions deliver for a rounded player all year: Marbella.  It´s not just nice weather. It´s a healthy balance, the refined slow good that is breathed, it´s the international environment, it´s the energy of everymorning we can watch the sunrise, smell sea salt, feel alive and be good to go in a moment´s spin.
What we call Padeldise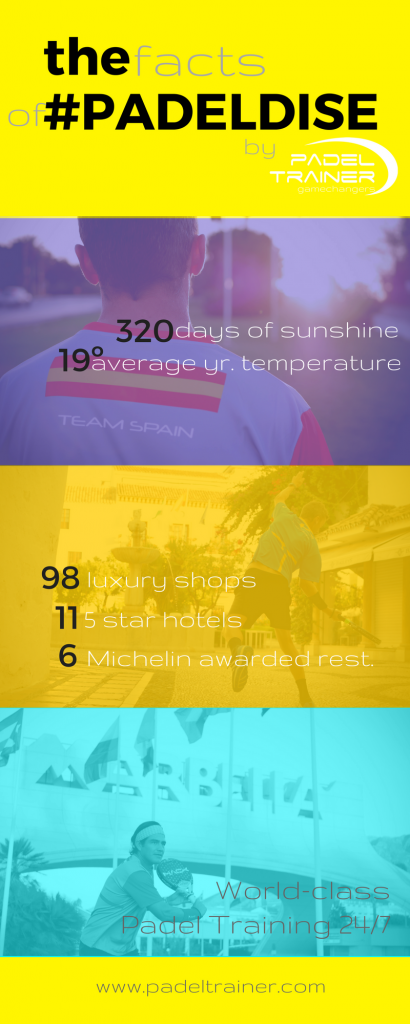 Both in victory and defeat, we experience moments that take our breath away.  Moments we never forget.  At Padel Trainer we are driven by the desire to ensure that each of our trainees come to a magical moment where tactics, technique, physical and mind come together snuggled by the rays of sun, out of the ordinary, where the smile that greets you to the court becomes the motivation and invitation to step out of comfort zone.
Out of your ordinary into a #gamechangers training. That can happen in a place that opens up to you with wide arms.  Turn around, step out, take the chance. Gamechangers are made with training.  That´s the power of Marbella.  That´s Padeldise.  That´s the power of padel. That is what Padel Trainer delivers.