Tips and Hints from the Pro´s: travelwise
Making the most of long padel journeys to and from major competition destinations can become a nuisance to some, especially when we are beginning to get a grip on the traveling here and there.  For those #gamechangers who are becoming avid sports travelers we have broken down our list of those very important must not forget items.  Those that should not be outside your bag when entering the court.  This is our must, looking to make a better list with your help.  Our wild guess is that it needs a padel girl refurbishment.  Maybe Billie G can give us a hand with?
Making the most of every padel experience means even anticipating with your packing can become an exercise to start mind training for confidence and success, nothing missing, means we are whole and ready for performance.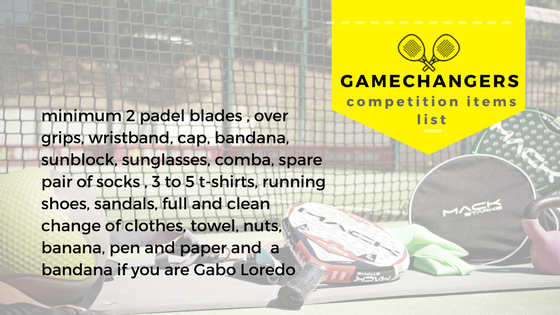 The PRO tips
The first win happens in your mind.  Trust that you can win a match, a tournament, Masters happens first in the confidence that we have everything settled.  This means both logistically becoming travel wise in one owns benefit and for sponsors and partnerships as well. Having the small tasks done allows ample time to develop the winning mindset to face each challenge with – grit and bravery- as Gabo Loredo says.
As for Mack and Padel Trainer´s head coach Daniel Dios says planning is crucial.  "We don´t want to overdo a top player agenda with exhausting travel arrangements.  As managers we must seek to keep it as natural for the player as possible.  Budget and comfort must meet and healthy nourishment is a must".
For us at PadelTrainer it is important to make all players understand that a competiton is a challenge indeed, but it is also a gathering that celebrates the sport we love and honor with smiles and cheer for contending players, the organization that puts so much effort in pulling everything together, and of course the sponsors which make great events possible. Every good inention crafted and delivered counts in creating an environment of padel goodness which is what energizes the spirit of players and audiences equally. Every time we see a crowd, big or small interested and involved into padel is an opportunity for more people to spread the word about this sport within their communities, their media reach and their social relations.  We all should make an advantage out of it.  We owe that to this sport.