Proper Feeds:  Making ordinary extra-ordinary (from one coach to another)
"When you change the way you look at things,

the things you look at, change"
Padel sessions, day in and day out.  Sometimes out of routine, we take for granted what can be used to visualize real court situations where the trainee is taken out of his or her "comfort zone".  Often we segment our lesson plans to tackle either the offense, defense, tactics, technique, drills etc.  But there is something that us, at Padel Trainer are all into.  The simplest of challenges can show us so much about the attitude, ability and sporting spirit of our trainees.
All of us coaches at Padel Trainer have developed tools that enhance a coach´s capacity to asses who is the apprentice in front of us in terms of speed, assertiveness in tackling this or that, and understanding in a quick glance what part of the game should we tackle first for the players that we train, regardless of their level.  All of it while making sure, both our apprentices and us have fun together.
The Feed.
It seems so easy to "just" feed the balls to our trainees, isn´t it?  Hey coaches out there: How many times do you start a lesson with a feed? Many, we are sure.  After 5 minutes of feeding, our minds have already decided which repetitions are to be undertaken in the session, a bit of physical and devote the last 20 minutes to a game-like scenario.  Part of our coaches training consists not only in perfecting the technique of the coach him or herself but also on developing very fine observation skills.  We don´t want to leave any details behind.  We strongly believe the end result of a session should always be positive, both for the apprentice and the coach. So while delivering a lesson hard skills of padel should be tackled indeed, also those small but very important situations where the character, responsiveness, and determination of a player do make a difference should be kept in mind.  How to see them?  Use the feed my friends!
Accuracy is a must while feeding our trainees with a bucket.  So it is rhythm. Length and direction need to be carefully practiced so as to assure consistency -and even honesty- for our trainees.  We don´t want them running extra miles just because.  We want them to run the extra miles for a real purpose that sharpens their skill.
Getting the job done means we, as coaches have done our own homework before.  In order to do so, we recommend you do lots of repetitions of all the different balls and combinations you can think of.  Here´s our cheat-sheet of balls that you can use in checklist mode.  In order for you to take them to the court, we´ve made a nice downloadable ready for print (bite-sized) for you to take with at any time.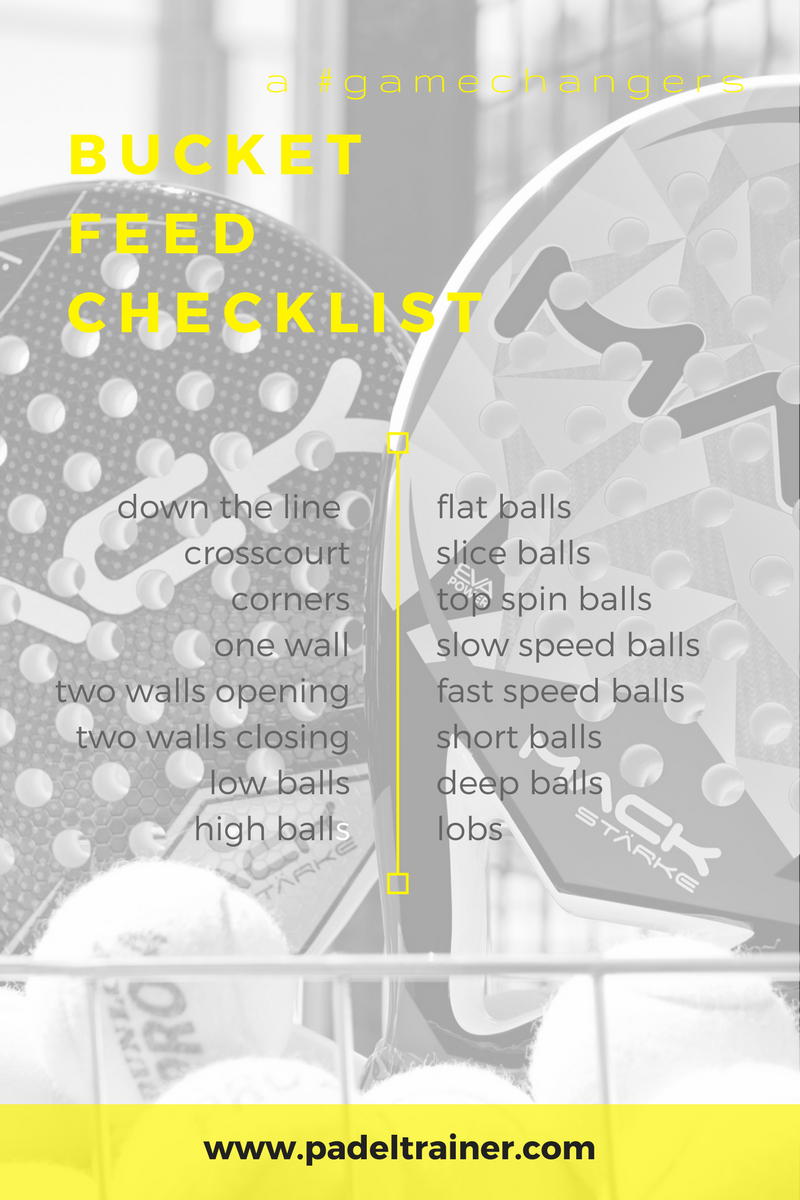 The technique, the feeling for the ball and the situation of the court (indoor or outdoor) do make a difference.  After you´ve enhanced your technique, fun should be part of the lesson for both the coach and the trainee.  How about a feeding challenge?  Without making any feeding or accuracy mistakes try 3 different series with 3 variations:
Series no1.
two walls opening
two walls closing
one wall opening
Series no.2
Player spins two walls opening
Player spins two wall closing
Two walls opening
Series no.3
Two walls closing with enough rebound to bring the player to the net
Lob towards the middle for a bandeja
Passing the player through the middle for him to recover the ball using a spin.
Tell us how did it go…We would love to read all about it.