2017: El año en el que el circuito de padel es menos internacional.
(scroll down for the english version) 
Que el padel es un deporte en fase de crecimiento a nivel mundial nadie lo puede dudar. Prueba de ello es el crecimiento vertiginoso en países como Italia, Suecia, Francia, Portugal, Grecia y muchos más, en los que la cultura de padel empieza a calar hondo.
Justo en el  momento de sembrar las semillas adecuadas para la germinación del deporte, el hecho de que el circuito profesional del padel (World Padel Tour) no ofrezca un canal en inglés para que todos los aficionados del mundo puedan seguir a sus jugadores preferidos es, como poco, un paso hacia atrás en la evolución de este deporte.
Han sido muchos los usuarios, aficionados y amigos que a través de nuestras redes sociales nos han transmitido la frustración de tener que volver a seguir a sus jugadores preferidos en un idioma que no entienden. Preguntas como: ¿Cuándo podremos ver otra vez partidos en inglés? O ¿Por qué se ha dejado de retransmitir en inglés en un momento de máxima expansión del deporte? Comparto algunos de esos comentarios, recibidos día tras día…
Y es que después de un año 2016 en el que todos los aficionados podían seguir (solo en pruebas internacionales eso sí) las rondas finales en inglés, hizo que poco a poco se creara una conexión entre jugadores y aficionados. Fué posible que los telespectadores pudieran sentir la cercanía de sus estrellas, entendiendo aspectos tácticos, técnicos y personales de cada uno de los jugadores del circuito. El deporte rompe barreras, sin duda, pero que menos que sea el idioma más universal el que logre unir a las federaciones, clubes y asociaciones de padel a lo largo y ancho del globo. Queremos que éste deporte sea realmente grande, ¿cierto?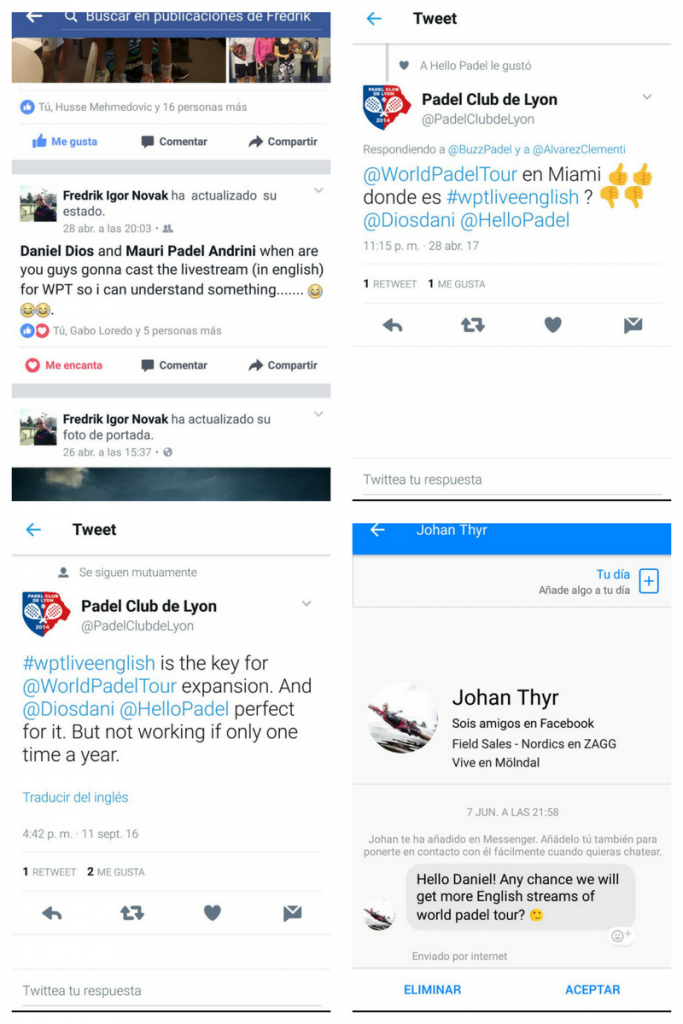 El confuso camino a la élite del padel
Si bien es cierto que poco a poco se han introducido algunas pruebas de menor tamaño (challenger) en algunos países, esto no hace sino que ofrecer una visión separatista del deporte.
Por un lado, contamos con el circuito profesional World Padel Tour, un circuito privado en el que las federaciones de cada país luchan por tener un sistema de puntuación que permita a sus mejores jugadores poder acceder a sus pruebas.
Por otro lado, contamos con la Federación Internacional de Padel que sigue percibiéndose como un órgano regulador a la estela del circuito profesional y con falta de presencia en federaciones muchos países que luchan duro por poder consolidar una estructura de deporte nacional con recursos muy limitados y falta de apoyo internacional.
En paralelo y recientemente, podemos ver como otra competición privada, La Fabrice Pastor Cup, en conjunto con Montecarlo Padel Master, empieza a tomar impulso gracias a sus pruebas, así como eventos de promoción del deporte (apostando muy fuerte por internacionalizar el deporte con los mejores jugadores del mundo), dando la sensación de crear una estructura de eventos en paralelo al ya existente World Padel Tour.
Y por último contamos con el International Padel Experience de la mano de Madison, que no hace sino rizar más el rizo en lo que a competiciones de alto nivel internacional, bien sea profesional o amateur se refiere.
Este panorama no hace sino ofrecer una estructura para el crecimiento del deporte de padel complicada y confusa.  En este escenario no se dibujan con claridad las condiciones favorables para incorporar a las nacientes federaciones y clubes de padel a los circuitos profesionales de competición, a lo largo de todo el planeta.  Estos pequeños gigantes necesitan espacios que incentiven a sus nuevos atletas a adquirir una cultura de deporte inclusiva y abierta, que promueva la competición local, nacional, regional en condiciones de equidad. En últimas que permita iniciarse en competiciones internacionales con el fin de poder formar parte de la élite del padel.
Esa masa crítica no se nutre de patrocinadores, o de anuncios en circuitos comerciales.  Se nutre, sobre todo de que  los valores sobre los que se construye éste deporte sean reales.  Un deporte que es en escencia accesible a todo el mundo y fácil de aprender, ofrezca a todos las mismas oportunidades a lo largo y ancho del globo.  Cierto es que crecemos, pero debemos hacerlo con una estructura transparente, que vele por los intereses de todos los padelistas, no solo por los intereses de algunos.
Un ejemplo tan sencillo y de buen funcionamiento en un deporte de parecidas características como es el tenis nos sirve de espejo para ver otra realidad. Controlado por la ATP (regula el ciclo de competicionesinternacionales completo, desde las mas pequeñas hasta las pruebas mas importantes, y perfectamente coordinada con las instituciones nacionales en cada país), no se entiende como lo obvio se puede volver tan complejo.
¿La causa? Sencillo. No se han creado dentro de la FIP unas bases sólidas para el desarrollo y expansión del deporte y como consecuencia muchas empresas privadas velan por sus propios intereses…
Si cada una de las partes: autoridades, patrocinadores, empresas privadas, federaciones, clubes, etc.  asume el papel que le corresponde, todos crecemos; crece el padel, qué es en últimas lo que queremos y necesitamos. Liderazgo activo, compromiso propositivo.  De lo contrario solo se logrará fragmentar más el circuito de competiciones profesionales, difuminar más el trabajo de los clubes y federaciones amateurs y profesionales,  incentivando a los jugadores a moverse de un lado de la balanza a otro únicamente en favor de su dotación económica…Lejos del padel olímpico que es lo que se merece éste deporte.
English Version
2017: The year Padel Professional Tour is less international
Padel is a growing sport throughout the globe. This stands as an undoubted fact.  Proof of it is the fast paced establishment of clubs, associations, and facilities in Italy, Sweden France, Portugal, Greece and many others where padel culture begins to settle deeply.
Just after the seed of padel has been planted and the conditions are right for the sprout to bloom, the fact that the professional circuit of padel (World Padel Tour) does not offer an English channel where fans can follow their favourite players, is to say the least, a setback in the evolution of our sport.
Many of our followers, users, and friends have been clear pointing out one thing: Frustration. Not being able to follow the development of the matches in English,  which is already second to most Europeans, leaves our new found crowd feeling second best in the eyes of the WPT. Questions like: When could we watch the matches in English again?, or Why is not English streaming available at a moment when the sport of padel is reaching its expansion peak? have been posted on our social media outlets.  We share a few screenshots of those comments below.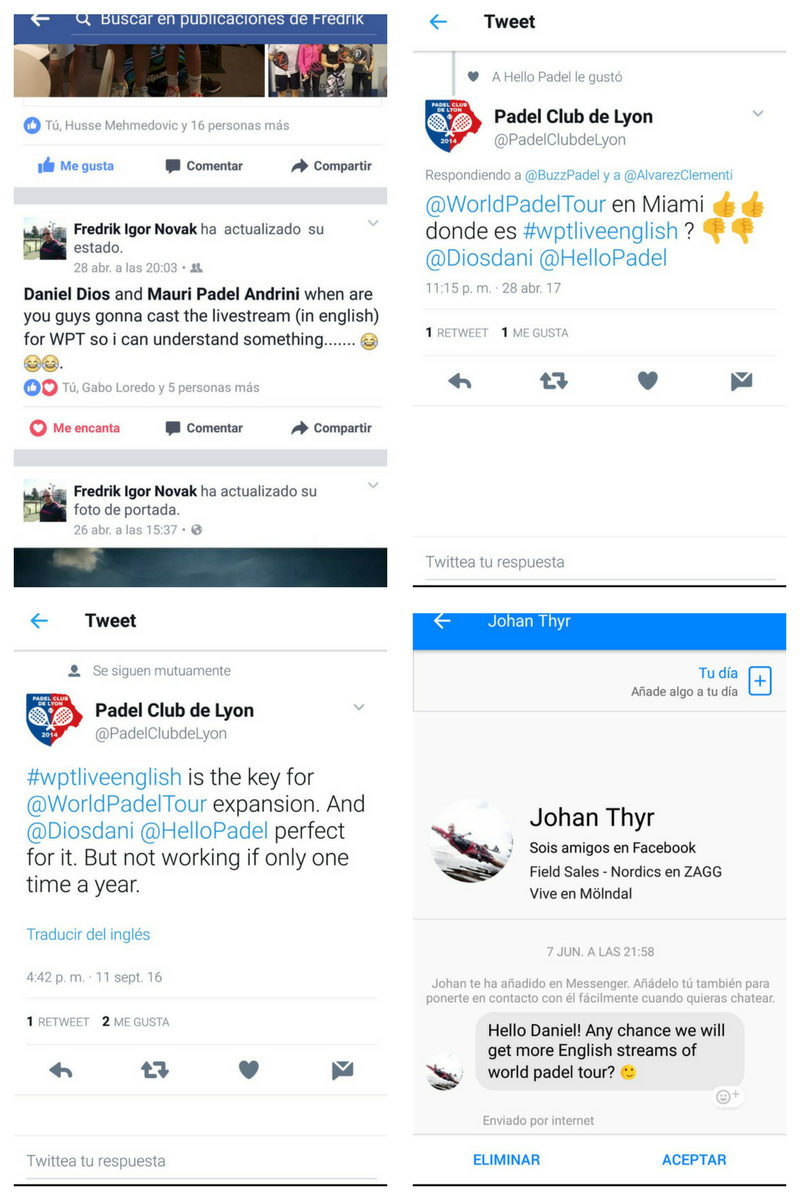 After an auspicious 2016, where all padel fans could follow (only in international competitions) the final rounds in English a connection between players and fans was made.  It was possible for viewers to have a sense of closeness for the first time in a sport which has become their own.  Tactics, technique, and personal comments about the players, the feeling of the game and the atmosphere that rises in the professional padel circuit could be sensed. Sport does break barriers, indeed it does, but let it be the language that we can easily share the element that joins federations, clubs and associations  by far and large in the the globe. We want this sport to be big, don´t we?
The confusing path of elite competition
While it is true that some minor competitions (challengers) have been included in some countries, we believe this does nothing but to offer a fragmented vision of our sport. Lets´s see the picture:
On one hand, we have the professional circuit World Padel Tour.  A private one in which federations of each country strive for a scoring system that allows their best players to reach their matches.
At the same time the International Padel Federation, which remains to be perceived as a regulative organ a step behind the professional circuit, lacking presence in the federations of many countries who strive in consolidating their own national structures within very limited resources and lack of international support for the achievement of their goals.
In parallel and most recently, we watch the rise of another private competition: The Fabrice Pastor Cup, in hand with Montecarlo Padel Máster, which begins to walk thanks to it´s  very well crafted competition and promotional event calendar. Their bet: internationalize padel with the best players, giving the sensation of a doubled structure of the World Padel Tour.
Last but not least we have International Padel Experience by Madison, which draws another curve for amateurs and professionals alike regarding high-level competition.
This scenario offers a complicated and confusing structure for the growth of padel world-wide.  Favorable conditions to incorporate just born federations and clubs are not clearly drawn. These "small giants" need spaces that are not only enticing for fans and cash-in friendly, but that enable new athletes in acquiring an inclusive an open sport culture, which promotes local, national and regional competitions following equity as capital criteria. Where lastly, clear rules allow initiating in international competition with a clear path towards padel´s elite.
Our small critical mass of players that we have today doesn´t feed on sponsorships or ads in commercial circuits.  It is nourished above all with the reality of values upon which this sport is built.  Padel is in essence accessible for everyone and easy to learn.  Therefore it must offer the same opportunities to all throughout the globe. True it is we are growing, but we must do so with a transparent structure that looks after the interests of all padelers, not only a few.
A simple example of a well geared sport of similar characteristics as ours serves as mirror to look into a different reality.  Controlled by ATP (who regulates the complete cycle of international competitions -from smallest to higher ranking -, perfectly well coordinated with national institutions of each country), we can hardly understand how the obvious can turn into a complex structure.
The cause?: Simple. Within the PIF solid basis for the development and expansion of the sport have not been built. As a consequence private entrepreneurship see for their sole good.
If each of the parties involved: authorities, sponsors, private initiatives, federations, clubs, etc. fits the role for which he stands for, we all grow, padel grows, which at the end what we all want and need. Active leadership and committed attitude.  Failing these will only fragment more professional competition circuits, diffuse, even more, the jobs of smaller clubs as well as amateur and professional associations, teasing players to move from one side of the scale to another solely because of the economic earnings of the tournaments.  Far from Olympic which is what this sport deserves.