The Padel Trip:  The perfect padel getaway
We´ve heard you.
Plain saturday and sunday wasn't enough.
So we decided to make it big, taking care of all small details which make the difference. If surfers tour the world endlessly searching for the greatest swell ever, how come the cradle of padel doesn't have its tailor made padel experience for all padelmaniacs abroad.
So! Here´s our deal people: Start sending cute kitten gifs to your significant other, and or/ that is up to you,  be extra cute to your mom. You will know which one is the big present your close kin can get you, or maybe just fest yourself into:  The Padel Trip.
We´ve come up with a pack that allows enough time to cover the really important technical aspects of the game, trigger those very important fitness training issues we never have time to go through while enjoying a healthy balanced diet that nourishes your body while spoiled and pampered in a great resort.  How to do that?
Well, we have been busy searching for the right partner to get this padel experience through. 100% padel concentration with no additives. 3 nights and 4 days where your body will thrive, and your game changes forever.
We´ve teamed up with BlueBay Banús to make this a true sport, health and fitness experience right in our own backyard by the mediterranean sea. Our basecamp at Real Club de Padel Marbella will be the scenario where padel training specifics will be taken care of by our resident experts.  A targeted fitness program will play an important part of this extended weekend.  Open to all level players, this complete padel immersion forgets no padel detail.  Starting with to and from airport shuttles to social matches  and after padel chill out in BlueBay Banus we believe this is a wonderful opportunity for which we have set 25 places.
Check what´s in it downloading the brochure here.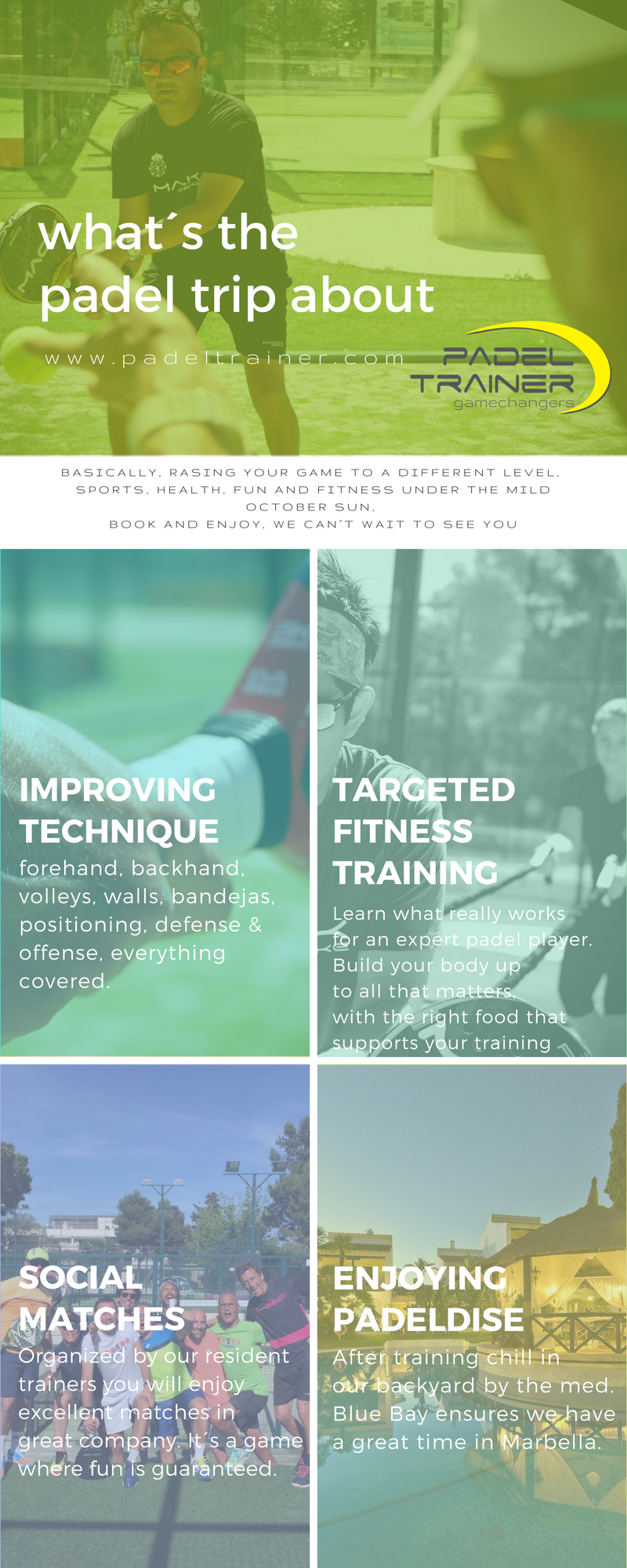 What´s included
Shuttle to and from Málaga airport on the day of arrival, october 19/2017 and departure 22 october/2017.
3 nights and 4 days accommodation at 4 star Blue Bay Banus resort
Breakfast, lunch and dinner through your stay
10 hours of technical training with our resident trainers
2 hours targeted padel fitness training
4 hours of social matches organized by our resident trainers
Fancy diner hosted by Blue Bay
1 perfect training body tan (sponsored by almost always shinning Marbella sun)
Please do note transportation to and from Málaga is not provided for. As all of our eager padelers come from such a variety of corners of the world, there is no way we can provide any assistance with your travel arrangements.
How to book your place
It is so easy.  Follow this link.  It will drive you straight into our padel trainer shop where we will sort all payment details.  Once your payment is confirmed by our system you will receive an e-mail confirming your booked status.  After a few days you will receive further details regarding the full program.  As we have only 25 places available, they will be filled on a first come, first served basis. As the date approaches more information will be added on for your enjoyment and knowledge.  Blue Bay Banus Resort is already as excited to welcome you as we are.  Their Concierge service will be happy to cater any particular need you may have, so if there is any please let us know well in advance to make this a very memorable experience.
If you have further questions, comments and or further etc. please do not hesitate to reach to us via e-mail at contact@padeltrainer.com. We will reply to you directly as soon as possible. This is all the easy part we have fixed for you.
Next step is the softening technique: to your significant other, boss or whoever claims your time. To make it easier we´ve selected a few cute kitty cats for you, in case your need them somewhere handy.