5 padel Blogs we follow and you could too
Before this becomes a long overdue we thought we should just write this post straight away.  Many months of active monitoring, planning and listening have gone into building our revamped website, and all that encompasses it.  Indeed there are many (maybe a lot) of web sites that roam around padel, and there is even a couple of guys who have ranked the blogs and influencers most of them spanish and spanish speaking by the way.  Just to mention, the two best pieces of work in the rank-a-holic range we deem worth taking note of are  Padel Barcelona because of its informed and tool rich based report on the matter, and Málaga based blog laboratorio de padel rich posts on highest media outlets ranking for players.
It is great to confirm the active pulse padel enjoys with such a growing and vibrant community that allows us to know, understand and share our common passion for the sport we love. But while most blogs and social media accounts either relate to news and events, what we have turned our eyes into is a different side of the padel equation.  Equation? Yes, indeed.  We believe there is a super scientific formula which we apply to ourselves.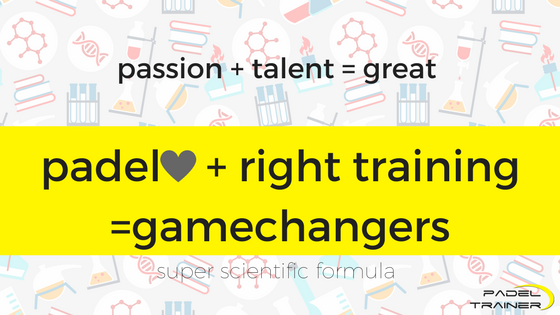 The #gamechangers vision of padel runs through our training courts, fitness training, mental fitness training and the on-line game too.  While information outlets are already on-line cross selling their stuff, very few others portrait leadership in the sport, develop padel culture and reflect on performace at the same time they follow an editorial line within their notes, posts and blog releases in their web and social media outlets as well.  It is always easy to fall on the number of followers trap: while we tend to believe that the greater number of followers equals good quality of the content it holds, not every time the first follows the other.
Crafting good experiences for the needs and feels of our growing padel community is a must for us at PadelTrainer, both off-line and online as well. Let us show you what we have seen around the web and why we believe it should matter to committed padel players here, there and everywhere.
Our five editorial picks





Before we round up we just can´t mention the good vibes we got when combing the web we found a jewel: The Junior Padel Tour second edition that took place last year in Castilla la Mancha (region of Spain).  We are all in for kids competition, after all we have to make sure a second generation takes up the lead, and what could be more useful for padel lovers around the world than to leave a good sporting heritage to todays tweens and teens. All participating clubs were winners of 2016 edition, fostering healthy and friendly competitions where team work, not individual names were awarded.  We just loved them all: juniors, coaches and sponsors for crafting this super special event for the young ones which clearly sets an example.
Rounding it up ladies and gents, what PadelTrainer knows there is a critical mass of padel fans out there wishing and hoping this sport is taken much more attention by local and national press than it deserves.  Well, we realize Cristiano Ronaldo and Messi allot for most of media sports time, but we could sure use a few seconds here and there to reflect what we, in the inner lines of the court see:  This fast growing sport is here to stay and grow.  ¿So why don't´we join forces among blogs to make it great? A total #gamechanger, who is in?